Current # of vehicles
For Sale By Owner:
96

How It Works
Where buyer meets seller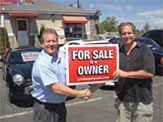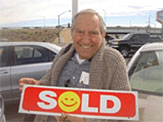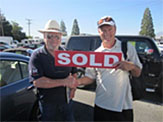 Selling

a vehicle.
Click here to watch the Selling Process.
Rent space to sell your vehicle For Sale by Owner.
Rent a Space to sell your vehicle.
We wash your vehicle twice per week.
We are here to show your vehicle for you.
We help your buyer with financing assistance.
We advertise your vehicle on our website with 20 photos.
You meet your buyer in our office to complete the sale of your vehicle.
Buying

a vehicle.
Click here to watch the Buying Process.
Deal directly with the seller to purchase your next vehicle.
These vehicles are For Sale by Owner.
These vehicles are not on consignment.
We do not act as a middle-man for the seller.
We do not receive a commission when the vehicle sells.
We have the keys in our office for you to look at a vehicle in place.
When interested in buying a vehicle you contact the seller directly.
To test drive a vehicle you call the seller directly. They will meet you here.
Private Party cars opened in 1982 with three ideas in mind:
1. You Should Get the Most Money When You Sell Your Car!
You want to get the most money for your vehicle, but sometimes making that happen seems like a hassle. Craigslist and classified ads can result in strangers coming to your home, awkward negotiations, and questionable transactions. Trading your car in at a dealership is even worse! Thousands of dollars are lost in even the best sounding trade-in deal. When people sell here at Private Party they consistently make more money than with craigslist and dealer trade-ins!
Buyers compete for your car!
You're contacted only by buyers who are ready to make an offer!
If one buyer doesn't want to pay your price there will be many others who will!
2.

Buying a Used Car Should Be Easy!
Remember the last time you bought a previously-owned car, SUV, truck or van? Endless calls to owners, inconvenient meeting times, driving all around town ...and the disappointment of finding out that the car was not as good as you expected. What if all of those cars were in one place, where you could look at them at your leisure without someone looking over your shoulder? That place is Private Party cars!
Save time. Over 100 cars all in one lot. Check them out at your leisure.
Find the car you want - then meet the owner here in a safe neutral place.
Deal directly with owner of the vehicle - there is no middle man!
3.

Buying or Selling a Vehicle should be Safe!
We've all heard stories about bad things that can happen to people when they invite strangers to their home to buy something from a craigslist ad. What you don't hear about are the difficult price negotiations, the bounced checks, and the last-minute change of heart that happens when you sell your car from your home. At Private Party cars all sales are completed safely in our office under Video Surveillance.
No strangers come to your home! You meet your buyer at our lot.
All sales are completed securely in our office under video surveillance.
No deals made in your driveway or kitchen. Choose the best offer.
DISCOVER THE FAST, EASY, AND SAFE WAY TO BUY OR SELL A CAR. CALL PRIVATE PARTY CARS TODAY!