Current # of vehicles
For Sale By Owner:
90
2006 Keystone Montana 2980 RL 5TH Wheel


Vehicle Owner's Contact Info:

Vehicle Equipment
Vehicle Owner's Comments
Welcome to this 2006 Montana 2980RL, Arctic insulation package 5th Wheel 29? rig. Asking price $21,500. We are the third owners. The second owners were snowbirds and went from Reno to Tucson, and put on very little mileage, but enjoyed living in it during the winter. We were blessed to travel 27,000 miles around the country with our 97 Dodge Ram Cummins Diesel 2500, and were able visit and enjoy a lot of the United States. We?ve been in stationary in Reno since May 2020. We enjoyed Tanna?s three slide extended, which makes this rig very roomy and comfortable. It?s two air-conditioners, and the Fantastic fan for the hot weather, and the propane furnace kept us warm and prevented the pipes from freezing during colder nights. The thing we love about Tanna, is with the slides in you can get to:
? the refrigerator to put groceries away, and if stopped can make lunch
? the counter top, kitchen sink, under kitchen sink cabinets, and over counter cabinets.
? The bathroom (toilet, sink and shower)
? The bed
We also like the quality construction, which is not found in the newer models. The slides are hydraulic, which are very dependable.
The reason we are selling Tanna is we have an elderly family member with medical issues that is keeping us in Reno. We thought we would let another family enjoy her, as we don?t know when we will be able to travel again.
Below is a list of the items we received or purchased, and will pass along to you as part of the purchase price:
? 5th wheel hitch - Curt Q20 with sliding bar, good for rig maneuverability, if needed
? 50W, 30W, and 120 V adapters
? Electric surge protector
? Water filter, with carbon cartridges
? Water pressure regulator
? Potable water hose
? X-Chocks locks for RV wheels
? Leveling blocks for under the wheels
? Wireless back up camera with 7 inch monitor
? Tire Tracker TT ? 500 with eight wheel tire monitoring systems
? RV hydro flush clear piece with hose connection for extra cleaning the black tank
? Propane tank monitor gauges
? TV antenna for the roof
? Built in maplewood desk, with sliding keyboard tray
? Campo Rhino 28 gallon portable RV waste holding tank (aka honey wagon)
? Solar panel 100 W kit
? Outdoor rug
? Small folding table
? Miscellaneous shelf containers
? Outdoor LED rope light for under the awning- needs to be installed
? Earth anchors and awning tie downs
? User manuals for rig and accessories
Below is a list of maintenance we have had done on Tanna:
? RV shower pan & walls - 10/2020 - brand new never used
? Suburban gas valve for hot water heater -7/2020 (Safari RV)
? Rear pleated shade repair strings - 7/2020
? Bearing packed and trailer breaks check ? 6/2020 (Safari RV)
? Anode rod replacement hot water heater -6/2020
? Goodyear endurance 235/80 R 16 LRE tires 10/2019 (have approx. 17,000 miles on them)
? New shackles and shackle bars on all axles - 7/2019 (Safari RV)
? New sandstone color 17 foot awning - 5/2019 (Safari RV)
? New motor/clutch for the front landing gear/legs - 5/2019 (Safari RV)
We have really enjoyed full time living in Tanna. There are many cabinets and lots of storage space in the rig, and the basement accessed outside the rig. We love the ability to hang up cloths in the closet area. If you wanted to you could install a washer and dryer as it is wired/plumbed in. We were amazed when we were unloading Tanna how much we had in the rig!
This is a great rig ready to go for new to RVing or an experienced RVers for weekend, extended vacations, if you want to go full-time, have the space to store near your home as a guest house, or need a place to live. (key # A23)

Ask the Owner a Question

Send to a Friend

Print this Page
NOTICE: The above information has been provided by the seller and is deemed reliable, but Display Space Rentals, Inc. D.B.A. Private Party Cars does not guarantee that information to be correct, or guarantee any future operation of this unit.
Vehicle Inquiry Form

Ask the owner of this 2006 Keystone Montana 2980 RL 5TH Wheel a question using the form below.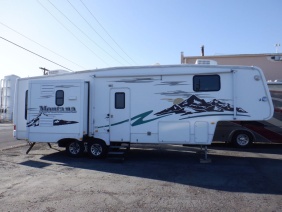 Please Note:
This is a "privately-owned" vehicle.
Your comments and questions on this form will be forwarded to the owner directly for the quickest and most accurate information.
Your contact information may be shared with the owner if needed.
Submitting, please wait ...

Owner's Contact Information
Name:
Auguste Lemaire
Home:
Mobile:
Your Contact Information

Share information on this 2006 Keystone Montana 2980 RL 5TH Wheel to a friend.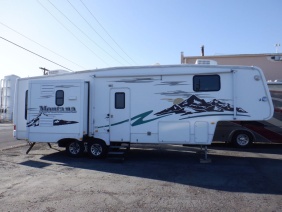 Owner Information
Name:
Auguste Lemaire
Home:
Mobile:
Submitting, please wait ...

Please enter required information