Buying and Selling Cars Made Easy!
Private Party Cars opened in 1982 with the idea that buying and selling cars should be easier, better, and safer. In the 30+ years since our customers have proven us right!
Selling Made Simpler
The idea is simple: the best way to sell a car is by the owner, with no middleman. The problem is that this exposes sellers to strangers, scam artists, and shady deals. Rarely does a car owner get the best price for their cars when they sell it from their homes!
Our solution: You bring your car to our lot, we show the car for you, but YOU make the deal. You are only contacted by interested buyers and you close the sale in the safety of Private Party's office, with the help of our staff.
Buying Made Better
Driving around town to find a car is a drag. See our large inventory of cars - for sale by their owners - all in one place! There is no salesperson to bug, but our knowledgeable staff is here to help! You only meet the owner when you are ready to negotiate your purchase.
Our solution: Find your next car on our lot, or for real convenience search our inventory online!
Sales Made Safer
Both sellers and buyers profit from the security of buying a car at Private Party. No visits with strangers, no deals made in driveways, no missing paperwork, no bogus transactions. Our staff is here to help the purchase be done properly so that you can sell or buy your car with confidence!
Our solution: Sales made with the assistance of experienced staff, in an office with video surveillance = a great experience for both buyers and sellers!
Contact Private Party Cars Today. The better way to buy and sell a car!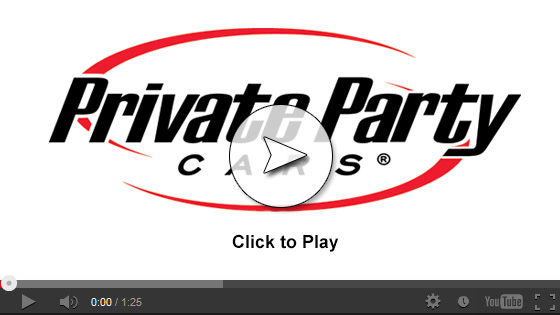 Private Party Cars Video
Click here to watch our Seller Benefits video
Click here to watch our Buyer Benefits video
Click here to watch our Who We Are video
Media Articles
The Year Book of Small Business Icons
A Do-It-Yourself Proposition
Private Party Cars Through the Years
Other Interesting Articles