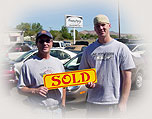 "I am glad we used this service. I will use your service again."
- Glen Bradburn
1993 Ford Ranger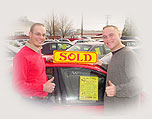 "I have bought two cars and sold three on this lot and in all cases, my cars were gone in under two weeks! I like being able to wander around the lot without being bothered by a dealership salesman."
- Mark Willison
1990 Acura Legend


Featured Vehicle

1978 Starcraft 17' 5 Aluminum Boat

---
Monday - Friday
10:00am to 5:00pm



Saturday
10:00am to 5:00pm



Closed Sunday


---

Private Party Cars was established in 1982. Over the past 31 years, we have developed an ever-growing customer base. The concept of selling your own car is nothing new; it's as old as the Model "T".



Here at Private Party Cars, we have provided a proven "for sale by owner" method for buying and selling cars. We require the buyer to work with the seller directly. We have effectively cut out the middleman. This service provides total confidence for everyone involved. For the owner of a vehicle wishing to sell, we provide you with your own display space to showcase your vehicle. You set the price. It is you and the potential buyer who decide how and when to finalize the sale.



Buyers can also shop with confidence and at their leisure while visiting our lot. There are no salespeople, just the friendly and knowledgeable staff at Private Party Cars to assist you. As a potential buyer, you buy directly from the owner, allowing you to learn about the vehicle history. Whether visiting our lot on Mill Street or using our website, you can view cars at your convenience. Our large inventory gives you the buyer ample choices, saving you time and the frustration of driving from place to place. Thank you for visiting this web-site. We hope to be of service to you in the near future. We welcome your comments and suggestions. Thank you.



Please feel free to e-mail us at: feedback@privatepartycars.com

Articles



2009 Best of Reno Award



Entrepreneur PR Article



The Year Book of Small Business Icons