By Kathy Landis
Through personal experience, Rick Gardner knows that selling a car can be costly, time-consuming and frustrating. Private Party Cars, Gardner's Reno, Nevada-based business, is built upon making the process easier.
Gardner founded Private Party Cars, a car lot that helps owners sell their cars by putting them on display, in 1982 after seeing a similar operation in Northern California. He located the business on a two-acre property within view of Reno's "auto row".
The Private Party Car concept is simple: Instead of advertising a vehicle for sale, or trading it in, a client leases a space on Gardner's lot for 35 days. According to the 37-year-old owner, the lot is located on "the second busiest corner in Reno".
Rental space, paid for in advance, costs between $195 and $265, based on the value of the vehicle. For an add-on fee of $55, a client can choose a spot in the front row; for an additional $35 they can choose a corner.
But why not trade it in, or advertise your vehicle in the newspaper? According to Gardner, his simple rental process can save a seller anywhere from $1,200 to $3,000 by eliminating the middleman. As far as advertising is concerned, Gardner assures clients more exposure in one day than in 30 days of print advertising. "We tell sellers that they only have to visit us a couple of times: once to bring their vehicle in, next to pick up a check," he says.
Private Party Cars offers other advantages. The lot has secured, attended parking, and vehicles are washed twice a week. In addition, Private Party Care does credit checks, assists with the details of financing and even sends buyers to the appropriate lender.
Private Party does not negotiate a price, nor does Gardner get involved in test driving a car for a buyer. Gardner's policy is that buyer meets seller. To facilitate this, he will let the buyer use his telephone to call the seller and arrange the meeting.
Unlike dealerships, Private Party Cars does not make money on cars; the business profits by leasing space.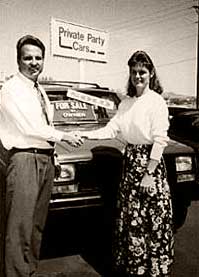 Customers completing the sale
"When a car sells, I don't lose a car deal, I merely lose a tenant and gain another space," explains Gardner.
Gardner reports that 80 percent of his inventory turns around within 14 days. In the unlikely event & lease expires without a sale, it may be renewed by the day. With his lot currently near capacity, Gardner says he may have to start a waiting list for eager sellers.
There are no limitations to the types of vehicles Private Party Cars displays, some even arrive in non-working order. Gardner has also rented space to sailboats, high-end recreational vehicles, and a steamroller. He is known for his selection of Audi Quattros, and high-end luxury vehicles.
Although other businesses have tried to copy his concept, Gardner says that none in his area have been successful. "People know we deal honestly with them and that we keep an immaculate car lot. Honesty breeds honesty."
Reg Willison sold five vehicles and purchased one through Private Party Cars. "I'd tried an expensive color ad in an automotive publication without success," says Willison. "Then I took my vehicle to Rick and each time, within a week it was sold." "Rick's business has a lot of foot, and drive-by, traffic. There are no sales personnel, and you can browse at your leisure. Private Party Cars is great."